Whether you're a staunch American made muscle car fan…or even an off-road racing enthusiast, it's easy to admire the powerful elegance that the Italian Ferrari carmaker has produced for over half a century. This classic example, the 1962 Ferrari 250 GTO just set a record at a RM Sotheby's auction in Monterey, CA Saturday.
Ex-Phil Hill Ferrari 250 GTO sets record for highest price paid for car at auction – MotorAuthority
by Viknesh Vijayenthiran


The Ferrari GTO stands as one of the most beautiful and exclusive cars of all time, and it boasts a racing record to back up its unparalleled collectibility. This, however, has seen prices soar to insane levels in recent times, and things don't appear to be cooling down one bit. Case in point is a 1962 250 GTO, chassis No. 3413, that sold for… Read More
1962 Ferrari 250 GTO Pt. 1: A Life Less Ordinary – RM Sotheby's
Renowned car collector Greg Whitten, an early Microsoft employee and current chairman of Numerix, owns the holy grail of vintage cars: a 1962 Ferrari 250 GTO.
The third of only 36 ever produced, this 250 GTO has an illustrious racing history. It was first driven by Le Mans champion Phil Hill; Eduardo Lualdi-Gabardi won 9 out of 10 straight races behind it's wheel and Gianni Bulgari won the notoriously difficult Targa Florio in this car in 1963…
The Most Expensive Car Ever Sold at Auction Is This 1962 Ferrari 250 GTO For $48.4 Million – Jalopnik
by Patrick George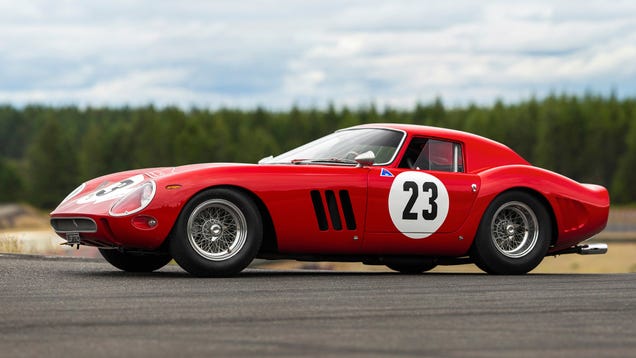 It's been described as "the world's most important, desirable, and legendary motor car." Of course, that was by the people selling it, but the hyperbole must have worked somehow, because this 1962 Ferrari 250 GTO became the most expensive car ever sold at auction this weekend at an RM Sotheby's sale during Monterey… Read more
1962 Ferrari 250 GTO Pt. 2: Masterworks – RM Sotheby's
In this episode of Masterworks: Expert Voices, join Ferrari Historian Marcel Massini and RM Sotheby's Ian Kelleher in an exploration of an extraordinary 1962 Ferrari 250 GTO.
The third of only 36 examples built, the Ferrari GTO on offer has passed through an unbroken chain of ownership that includes some of the most prominent Ferrari collectors in the world. From early owners Eduardo Lualdi-Gabardi and Gianni Bulgari to current owner Dr. Gregory Whitten, this 250 GTO has "an exceptional race history" and contains "95% or more of the original body work".
Ferrari 488 Pista Spider is the company's 50th convertible – CNET Roadshow
The topless 488 has 710 horsepower and will crack 211 miles per hour.
Ferrari has chopped the roof off its 488 Pista supercar, giving the new model the Spider suffix in the process. The 488 Pista Spider is the 50th convertible Ferrari has ever introduced.
Visually, the Spider looks a whole lot like the Ferrari 488 Pista coupe that was introduced earlier this year. A wide, purposeful body hugs the ground, with massive air intakes up front, more inlets on the rear fenders and buttresses behind each seat. A central color block that runs down the length of the car is said to symbolize the movement of air over the convertible's body. To keep weight low, Ferrari installed aluminum plates instead of carpeting and replaced the driver's-side interior door handle with a fabric strap.  Read More